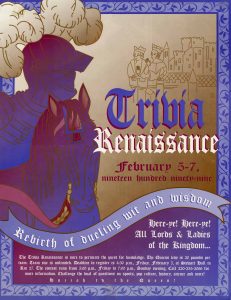 KVSC Trivia turned 20 this year and as a follow-on to the 1997 retrospective, Captain F. scoured the audio archives, even dusting off some reel to reel tapes that hadn't been taken out on a date in a decade.  The 20-year retro did feature tag on the end that resembled some early tinkering in regards to how future intros would take shape.
Challenge line calls were mostly not worth saving however a few did make the cut including a German-language song challenge and the first of a new type of call: The Crabby Appleton-Uncle Corn chemically enhanced non sequitur stream of consciousness musical montage.
In the production department, the Posse found time to wish Historical Trivia Individual Al Neff a happy birthday, produce a medieval-tinged taunt to the teams about how many hours were left to play, and produced a pharmaceutical commercial that would have been given by town criers across merry ole England.