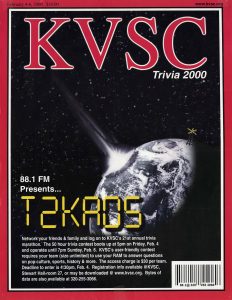 The was the year before the "modern" intros began and while some sort of introductory production was planned, a different trivia audio project used up all the pre-trivia production time and energy of Captain F. and Wildman. Call The Challenge Line was an original piece written by Wildman based on a popular newspaper column put to music by Baz Lurhman and released as the single "Everybody is Free to Wear Sunscreen". The original column was a commencement address to the today's youth if the columnist had been asked to give one. More details about how the Posse version was put together can be found below.
2000 was also one of the last years that the original producers of Stink Rock put out a collection. Porn Rock was by far their most clever offering aside from the original that spawned the legend. The original producers would release one more collection Southern Fried Stink a year or two later. In 2004, The Posse would become the second group of producers to offer a Stink Rock collection.
The year was capped off with a weekend in review sweeper that featured a sound effect that Al Neff said went on just long enough to make the listener uncomfortable.