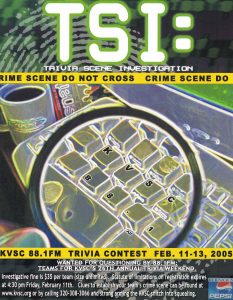 The Posse came back with a vengeance after a light effort production-wise in 2004.  It started with the intro which was comprehensive in both content and artistry.  The theme lent itself to a story line and the order of the sound clips were arranged to weave a tale from the moment a crime was committed to the final benediction for the victim after the criminal was caught.  This year also saw the first emergence of the intro within the intro.  Specific scripted liners were voiced and produced to give the listener a clue that the start of the trivia contest was acutely imminent.
In the challenge line, the charter members of the Posse welcomed Fluffer for the first time.  Also joining the Posse (Yet to return in subsequent years, but always invited) was Snap-Roll-Sam who knew Captain F. from his aviation sphere.  Sam is a law enforcement officer in his real life which served him well in the Challenges Only! skit where he played a drunk looking for a ride home.  The frustration from the lack of challenges in 2004 spilled over to this year as the Posse produced two skits and featured a challenge line call that addressed the issue of challenge line use and etiquette.  An emerging problem since the late 1990s, the challenge line was getting too many lame challenges or just plain unrelated calls. Some that called used their crappy cell phones which just forced the Posse to lower the boom.
The original skit TSI: Minnesota was a classic collaborative writing effort that was scratched out in the KVSC lobby amongst the entire group.  To ape the proliferation of the CSI and Law and Order franchises, TSI: Minnesota took recent weird happenings in obscure Minnesota towns and made them into their own franchises.  The skit was constructed in the shape of an over the top NBC-TV promo that was not that far over the top from the format and style that is seen on TV any given night.
"Stink Rock" took a break this year after the Posse's first effort in 2004, although Musgsy Hamster surprised them all when he asked why the Posse hadn't produced a Stink Rock offering.  It was at that moment that the Posse realized the "Stink Rock" production torch had been passed to them without warning.
The Weekend In Review continued to mature as earlier year's efforts fed the fun of this year.  Sound boards were employed often to mess with callers and that yielded some great reactions that were woven into the final sweeper.  The sound board of Hank Hill served as tour guide as callers provided a mix of real voices, impersonations of Cartoon Network characters (Meat Wad) and a reference to the wardrobe of one on-air question reader made for a production that is referenced often to this day.