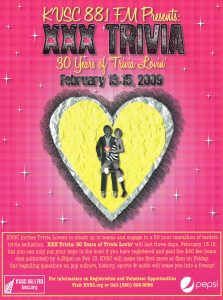 XXX: 30 Years of Trivia Lovn' was a reunion not only for KVSC's trivia contest but the return of old friends for The Goat Posse 2009:  The Return of Dude.  Dude was one of the charter members marking his first Posse participation in 1996.  His creative, mischievous writing style is present in many of the skits and Top Ten lists over the years.  After 2004, Dude took a break from the Posse to pursue solo work.  The Posse welcomed him back this year with open wool.
For 2009, Dude partnered once again with Phal to write Love Stink, the latest send-up in the KVSC trivia fake music collection infomercial series "Stink Rock".   Phal and Dude first teamed up in 2004 to write Wedding Stink, the Posse's first "Stink Rock" offering.   2006's Celebrity Stink and 2007's Lip Stink were solid efforts, however, the good and bad from the previous "Stink Rock" efforts by the Posse were incorporated in or excised from this year's Love Stink and is by far the best yet.
From the fast paced writing to inspiration producer Capt F drew from the editing and structure of the original "Stink Rock" editions; (created by Chris Weiss, Aaron White, and Dave Lee) Love Stink was well-received and even took a turn as a game-changing 250 point question in hour 47 of the 2009 contest.  Another Posse first for "Stink Rock" was the completion of the project prior to trivia.  This allowed the Posse to schedule its debut during the Saturday Posse Rock Block and air an actual promo to herald its debut.  The promo featured the out-takes of Posse stink rock announcer "The Voice of Corn" which usually adorned the ending of the Posse's weekend-in-review sweeper played at the end of the contest.
The excitement of Love Stink (see the GPO originals tab) almost overshadowed the Posse's yearly signature piece, the Trivia INTRO.  This year's intro was a truly collaborative effort as Phal and Capo worked hard to gather clips for lead producer Capt. F.  CoCo increased greatly his role this year as the "King of Loops" as many of the music beds used in the intro were seamless re-arrangements of remixes of popular songs and instrumentals.
Wildman continued his savant-like treatment of the final clip list, finding the right order for 175-plus audio clips.  This is a key part of the INTRO since it serves as a starting point for Capt. F who indeed oversees the overall vision of the project; but  always looks for this nudge from Wildman that helps him start to put the clips down on the audio canvass.  For the second straight year Phal and the voice of one of his daughters can be heard during the final sequence as well as many other KVSC and posse members.
In 2007, the Posse held a very successful challenge line contest Trivia Idol.  Last year's Trivia's Best Campaign Pledge fell flat with not a single entry.  This year's Poet-Trivia Slam Haiku contest took 7 hours after its advertised start time to gain momentum.  (The Posse even got long distance help from Trivia philosopher-King Al Neff who voiced haikus for the contest promo)  The Saturday overnight picked up as charter posse members repaired to the hotel while Digital Dave and newcomer Susan stayed on the challenge line to field a fusillade of Haiku entries.  (Including two fake ones called in to the unsuspecting Digital Dave by posse members from the hotel-see haiku entries Stiffys in a Jiffy and Enjoy The Goat Explosion)
Sunday afternoons of the contest for The Goat Posse is reserved for producing the weekend-in-review sweeper; titled this year as: Trivia Lovn' Kiss Goodbye.  Due to increased studio capability and labor Capt F and Wildman moved to a smaller studio and began putting the weekend's most memorable calls to music.  (The final version of Trivia Lovn' Kiss Goodbye includes a ending message from Al Neff that was intended to be in the piece by was forgotten in the version that aired at the end of the contest)
While Capt F and Wildman worked away, on the other side of the glass Digital Dave, Susan, and Phal worked with remote posse member Fluffer on a skit called Trivia Break-up about a man who admits he had been cheating on his girlfriend with Trivia.  Phal conceived the idea for the skit only 24 hours before its production but it was perfect for Fluffer who was a member of the in-studio posse in 2005 and 2006.  In 2008 Fluffer played a phone-in contestant for 2008's skit Are You Smarter Than A Presidential Candidate.  This year Fluffer was still in school in Florida but her improvisational skills were at their best again as she voiced her lines over the phone.  Phal added in his lines next and Digital Dave produced the piece all under the crunch of the deadline that is the END of Trivia.  It was Dave's first turn as producer without an assist from Capt F.  (Up until this point Capt F has over the years produced all major posse productions save for some routine challenge line calls)