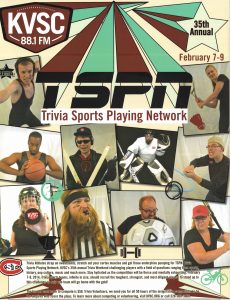 The Goat Posse became of legal age to drink this year, but that never really stopped the kids from imbibing on rhymes, skits, audio clips and wool. Posse members have become an ever-changing but critical mass of talent that is capable of running several projects at once. The intro kept Captain F. in a creative vein finishing a day early since for the first time ever, he would not be at KVSC for Hour 1 of the contest.
There were a few recurring motifs with including a follow-on PSA about male genitalia, this time with a sports theme. Additionally, a legacy production would say goodbye as the Posse pinched-out it's last version of  the Stink series. Be sure to listen to the tearful farewell.
Last year the Posse re-discovered the gonzo producing style of trivia with Trivia News Night. This year a second broadcast was aired as the news team covered a major world sporting event, and predictably found the slimy underbelly. Way to overachieve kids.
Other Hunter S. Thompson-esque productions included a reprise of the dramatic spoken-word reading of popular lyrics, this time an ode to Jim Gray and how he destroys the hearts of millions of young women. Plus, a bit three years in-the-making, the operatic debut of Baby Got Back (trust us).
But, the horns on the goat for the Posse was their third straight smash hip-hop joint Goat Shop, which also was at least a year in the making. This pitch-perfect parody of Macklemore's Thrift Shop hits every
department of Trivia which after three listens (we know you hella will) the original lyrics will fall from your memory.
Don't forget to watch video of the awards ceremony for the yearly awards, bestowed by the Posse. During this ceremony we also celebrate the induction into the Trivia Hall of Fame Chad "Charlie Brown" Roberts known to the Posse as the "Voice of Corn".
As Charlie Brown, Chad brought consistency and reliability to Trivia scoring while also setting the legal standards for the point disputes. Plus he just didn't take any crap from teams who called the Point
Dispute Line. Consider it an honor if you were told by CB to "pound sand". His reward was to read, with Jim Gray, all the trivia scores at the awards ceremony, punctuating them with acerbic observations about team behavior etc.
As the Voice of Corn, Chad solidified his legend as the smelliest narrator around once the Posse began producing the Stink series. His commanding voice, irreverence, improvisation and insistence on voicing
Stink scripts without a pre-read (read lazy), have contributed to outtake gold year after year. Some examples are here, here, here and here.
Congratulations to the Voice of Corn!