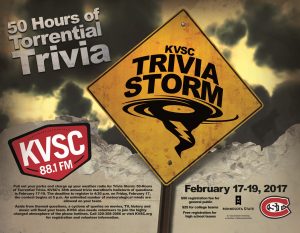 In 2017, The Goat Posse hit all the compulsories, producing the INTRO along with some original sketches, Safe Harbor meditations and a parody of a popular tune the kids were listening to at the time.
The 2017 weather theme provided a smooth story line to follow in selecting quotes to build the Trivia tension. The INTRO was helmed by CoCo and Drrrty A with major contributions from Piss-boy and an appearance by Rhyminister to perform the "toss".
During safe harbor the inner most thoughts of Posse members sometimes are expressed by their outside voice.
A new version of the Safe Harbor Intro explored the parameters of the "safe word", and another bit that examined the perils of letting your id name inanimate objects.
The Posse underwriting department gets a new client, our Climate; which has something to say about our behavior. Plus the parody section picks a Chainsmokers song to warn about the body at the crossroads of food consumption and age.
Finally, don't forget to check out the Year in Review and the Goat Posse Awards.