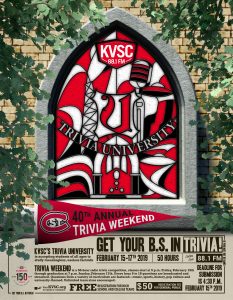 It was such an exciting academic production year at Trivia University. The Goat Posse worked well together on their group project and graded very high.
The Intro had multiple producers, the most we've ever had. Captain F returned to assist with full-time production joining CoCo and Drrty A. Cobby and Dubs joined the team for the first time to produce full sections of the piece. Oates and Skinny D also had major contributions.
As is the fairly new tradition, we have the studio reaction video of Jo Lynn McMullen as she hears the intro live. The audio and "as aired" versions in audio form are also available.
Once on campus, there were multiple groups working that organically formed, each contributing multiple pieces along with one-off contributions from Jam-Oooh! And FoP Al Neff.
Phal, Bear, FoP Joe and others produced new versions of Quotes from the Colon as the topical series College Roommate Mismatch! They also added a bit for Safe Harbor!
Honey Trap came strong with a few versions of Clifton Notes, a play off his legal name covering some well-known classics. His Baby Trivia production showed off his lyric adaptation skills and his bravery with a green screen.
Jam-Oooh! Played the campus tour guide in two productions that may or may not increase enrollment. Mr. Choo Choo brought his homegrown phallus watch to the airwaves which included a challenge to Trivia players.
We were very honored to have FoP Al Neff cut an ad for his new Sociology course "Higher Education". 
And then there were the song adaptations! Another year of multiple contributions. "Answers Here" is a send-up of  Nelly joint, written by Dude with Oates on the mic and backup by Princess Buttercup. Mo' Cawledge was banged out by Skinny D with help from FoPs Declan and Justus.
But the signature adaptation was of an Eminem classic. Skinny D lent his considerable talents and nimble lips to "All About Gray" which skewered Just Jim while also not letting his students off the hook. 
Thanks to Cobby and CoCo for meticulously adding the lyrics to the companion video to the song. See the video as well as the studio reaction of Just Jim as he debuts it live on the air during Safe Harbor.