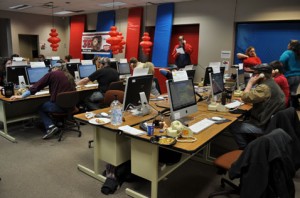 KVSC is still in need of volunteers for Trivia Weekend!
If interested in volunteering for one or more shifts at the Trivia Phone Bank, please email info@kvsc.org or visit KVSC (room 27 in the basement of Stewart Hall) on the campus of St. Cloud State University.
If you volunteer for 15 hours or more, you'll earn a T-shirt!  Free food for all volunteers!
Full Details here: http://www.kvsc.org/trivia_volunteer.php