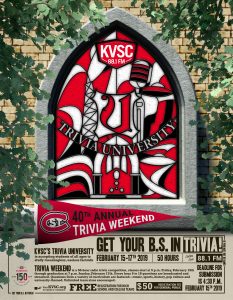 It was such an exciting academic production year at Trivia University. The Goat Posse worked well together on their group project and graded very high.
The Intro had multiple producers, the most we've ever had. Captain F returned to assist with full-time production joining CoCo and Drrty A. Cobby and Dubs joined the team for the first time to produce full sections of the piece. Oates and Skinny D also had major contributions.
As is the fairly new tradition, we have the studio reaction video of Jo Lynn McMullen as she hears the intro live. The audio and "as aired" versions in audio form are also available.
Once on campus, there were multiple groups working that organically formed, each contributing multiple pieces along with one-off contributions from Jam-Oooh! And FoP Al Neff.