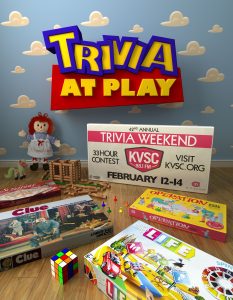 This is a tale of two Trivias. Because of COVID and the re-formating of the contest to fit remote volunteers, the Posse tried to do as much pre-production of our usual frivolity before the starting gun so that we could be available to work phone shifts if needed. IT WAS NEEDED.
It was so unlike us to be organized, but we were. The intro had no less than seven producers and with the usual mastering by Coco and Drrrty A, and was "in the can" an entire week ahead of time. It took all his strength for Captain F not to try and tinker with it.
The pre-planning also allowed the balance of the songs and skits to be completed ahead of time. Many of the skits feature great writing by FoP Alan, Oates, Cobby, Dubs, and Drrrty A.