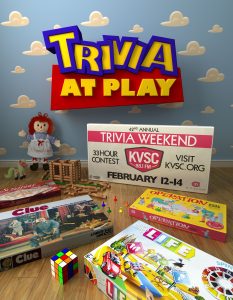 Welcome to another year of KVSC Trivia! The Posse loves to play with balls and other fun games so we are excited about this year's contest. We already have a few surprises waiting for you but you'll have to listen for their world debuts during the contest. The Trivia Intro will debut LIVE at around 5:52 p.m. CDT on Friday, February 12. We hope you'll listen along with us at that time to see why we work so hard for just this moment.
Check back throughout the weekend to listen to our productions once they have aired.
We can't wait to play games with you all weekend; but not in a relationship sense, or a mean way, er, just have fun out there everyone!